We may be IN a small town,
but our Ninja Warrior facility is BIG TIME!
We invite you to come and explore our 8000+ sq. ft. Ninja Warrior and Rock Climbing facility! You'll discover a leading-edge training, exercise, and competition center—with a range of equipment suitable for all ages, from beginner to advanced abilities—right in the Fuquay Sports Center in Fuquay-Varina, North Carolina.
As competitors, we've been to a lot of ninja warrior gyms. As fans, we've seen a lot of others through live streaming and social media. We designed Rock Solid Warrior to bring an exceptional experience for enthusiasts at all levels.
Dreamed, designed and developed by the Ninja Community
While we have a deep respect and admiration for the talented entrepreneurs who've creatively bootstrapped their facilities as part-time businesses, we jumped in with both feet by committing to create a facility packed with top-notch equipment from day one.
Invested in Safety: We ensured our extremely safe sport was even safer in our facility, investing heavily in padding and every safety precaution, including certified coach training.
Advised by Renowned Talent: Justin Conway, long-time ninja with a long record of advancing the industry, consulted on facility design; and experts Glenn Davis at Ninja Quest in Atlanta, and the Bergstroms at Jungle Gym in Tampa, provided insight into their top-notch facilities.
Advanced/Flexible Rigging to Switch and Secure Obstacles
Why wooden structures vs steel? Steel trusses may look more modern, but they also take up more room and provide less flexibility than wooden ones. Our innovative system also allows us to change or move obstacles very quickly and securely with great precision.
For exceptional performance and durability, we chose high-grade Cedar—a stronger, straighter, and more durable material than pine (better looking, too!).
Larger spans and fewer posts provide the most flexibility under the rigging.
Advanced techniques allow us to easily move them in creative ways.
The result? A different beginner, intermediate, and advanced course at least once per week.
Many have to travel around the country to get the variety of obstacles you'll get by training and competing here on a regular basis.
Family-friendly sports center for all ages and skill levels
At Rock Solid Ninja, we want everyone to feel at home.
Kids just getting started will find plenty of equipment to enjoy while not getting frustrated… advanced ninjas will face off against competition-level obstacles.
And parents and friends can sit in comfort whether they want to enjoy watching their ninjas do amazing physical feats… or take some time to relax or get some work done.
Our gym is divided into four ACTIVITY sections:
Mini rig
Mini sized obstacles for 4-6 year olds including rings, balance, 5′ and 7′ foot warped walls.
Little Rock
Adjacent to the Beginner / Intermediate section is a shorter rock section; fewer angles, but with a variety of other challenging routes.
Beginner/intermediate
Small-size obstacles packed with big fun: warped walls from 6′ to 12′; rings, laches, spider walls, and more.
Advanced/expert
Yup, the obstacles here are challenging! Warped walls are 12′, 14.5′, and 18′. Pit your skills against BIG obstacles plus lightning bolts, salmon ladders, and more.
Other Areas & Amenities
The Trailhead
You'll arrive here as you enter our facility from the parking lot.
Turn left for the Beginner/Intermediate section and Little Rock.
Go straight ahead for the Advanced/Expert section and Big Rock.
The Lodge
From The Trailhead, The Lodge is to your right. It's a space for parents to work on laptops in a fairly quiet, closed room, with generous windows to give you a view of what's going on.
In addition to comfortable seats, vending machines (coming soon), Wi-Fi, electrical outlets, USB ports, there's a silent video feed (coming soon) from multiple points in the facility.
The Lodge doubles as a "party room" when you book a birthday party (check out our flexible options for designing the perfect ninja and/or rock climbing birthday).
Showers & Restrooms
Showers for men and women are available inside our facility.
The Fuquay Sports Center Public has restroom facilities.
Operating Hours
Open from 8 AM to 9 PM Monday through Friday and 10:30 AM to 9 PM on Saturday.
We'll endeavor to have at least part of the gym available for "open gym" at least once a day.
Check our schedule regularly for programming.
Proud part of the remarkable Fuquay Sports Center
Rock Solid Warrior is housed inside the Fuquay Sports Center—a visionary remodel of the old Fuquay Flea Market: 130,000 square feet of activity for the whole family, along with plenty of parking.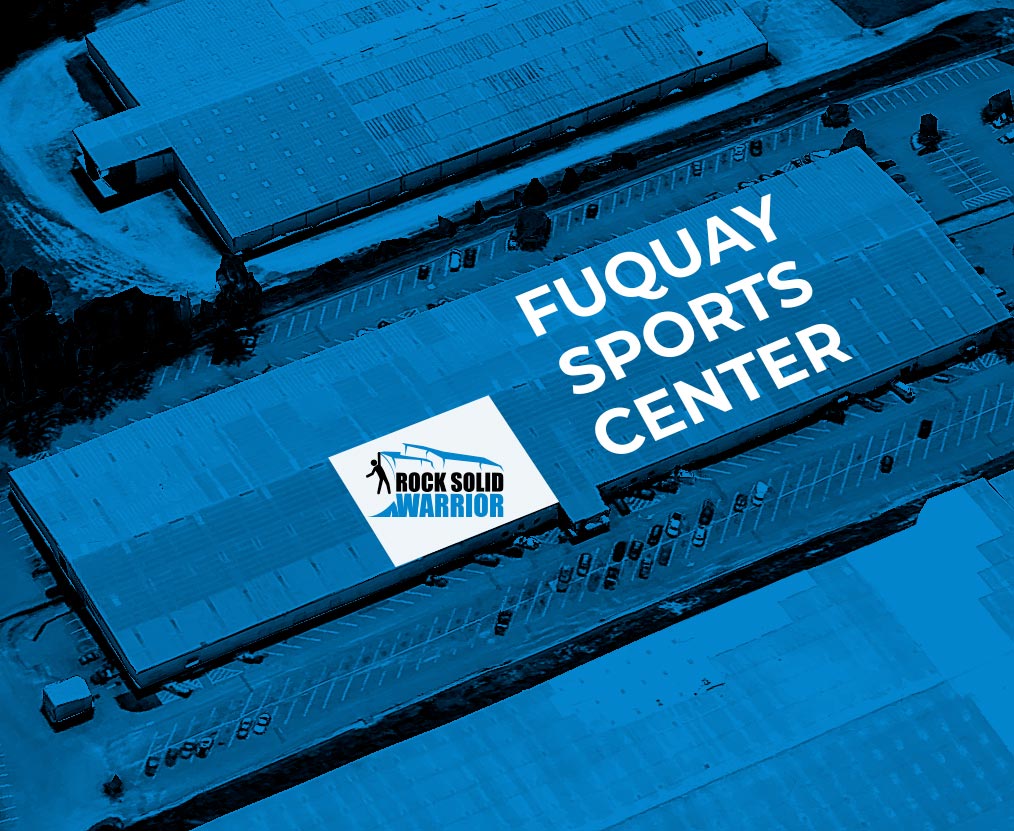 Come explore its wide range of sporting options:
Batting Cages
Gymnastics Center
CrossFit
Cheerleading and Tumbling
Martial Arts
Dance