Ninja Warrior Competitions
Compete in the Fastest Growing Sport in the Nation
The minute someone walks into the gym, we can see it: everyone wants to hit the buzzer.
And with a little training and practice, just about everyone can get started in competition. At Rock Solid Warrior we have beginner competitions, in house competitions, league sanctioned competitions, as well as independent professional competitions. There's an age division for everyone, starting from 6under, all the way to 40+, and everything in between! Even better, you can do it without having to drive far and wide as there are 5 other ninja gyms all within a 1.5hr drive of Rock Solid Warrior!
With competition comes motivation, excitement and challenge—that's why Rock Solid Warrior offers more competitions than your average Ninja Warrior gym.
Upcoming Competition Schedule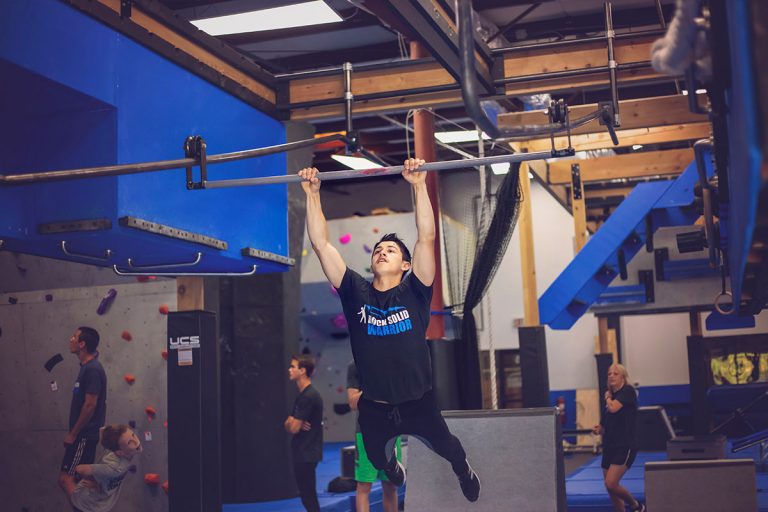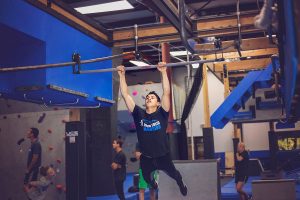 Come experience the sport that American Ninja Warrior inspired with a twist!
This Special Competition hosted by Rock Solid Warrior's own amazing ninja coaches will have special courses built for speed.
UNLIKE MOST NINJA WARRIOR COMPETITIONS YOU WILL GET AT LEAST 4 ATTEMPTS TO MASTER THE COURSE AND RECORD YOUR BEST TIME.
And whether you run first or last, you will get to watch others run (round robin). Rock Solid Warrior's ninja coaches will take turns announcing and coaching between runs, so you'll get all kinds of opportunities to improve your time and push yourself to your limits.
This competition will include both children and adults in their respective categories on age appropriate courses. Spots will be limited to make sure everyone gets at least 4 runs.
Sign up here: https://ninjamastersoftware.com/events/2665-rock-solid-speed-competition
Prices (before convenience fees)
Sign up now to reserve your spot. All participants must sign our waiver.
Participant: $40
Spectators: $10
Prizes
1st through 3rd place medals for each category and each gender
Schedule
Please be there no later than the start time for your age group. In order to keep group sizes low, you cannot stay to watch other age groups unless you are coaching or related to a participant.
8:30 – 10:30 6-8 year olds
11:00 – 1:30 9-10 year olds
2:00 – 4:30. 11-13 year olds
5:30 – 8:30 14+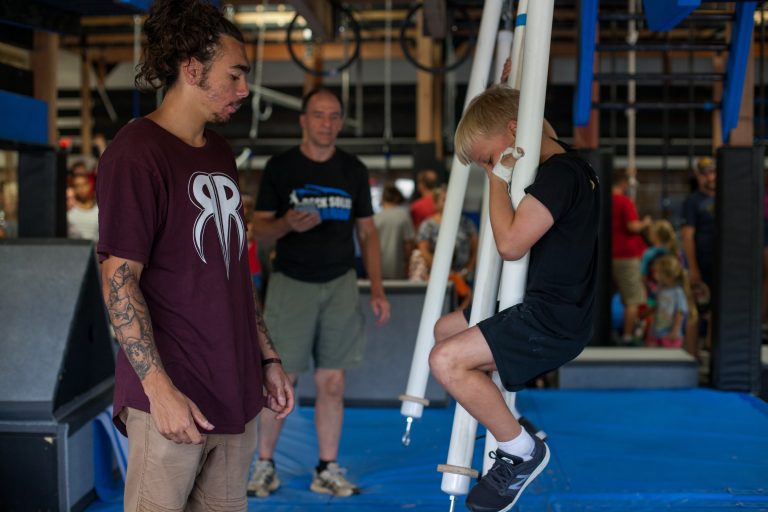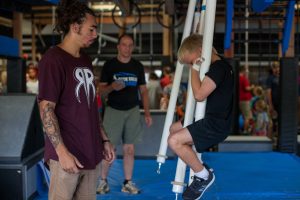 You may have seen the "All-Star Skills Competition" on one or more seasons of American Ninja Warrior. We're going to take it up a notch and open this up to not only the most famous ninjas, but ninjas from all over the country.
We'll be hosting skills competitions in 5 categories:
Armed and Dangerous (grip strength and endurance as ninjas tackle a challenging upper body course)
Speed and Agility (getting across a series of lower body obstacles as fast as possible without falling)
Extreme Salmon Ladder (the salmon ladder with some extra challenges)
Warped Wall Challenge (we've got lots of warped walls, and ways of making them more challenging)
Crazy Laches (we've got a 50-foot "lache alley". there's lots of stuff we can put in it for you to swing on… and we will)
In the morning, from 8:30-12, we'll be running qualifiers for all 5 competitions. Each athlete will get 1 run on each challenge to qualify for the finals in each. Those who check-in before 9AM will be given 3 extra tokens each of which you can use to repeat a challenge. Those who check-in before 10AM will be given 1 extra token which you can use to repeat a challenge.
NOTE: 13&unders will be on the same obstacles as the adults, with accommodations made for reaching the first obstacle if they are vertically challenged. This skills comp is not intended for beginners, but all are welcome to sign up.
But you can only move on to the finals (any age, any gender) if you clear the automatic qualifying standard (which will be explained on the day of the competition) or finish in the top 6 (in case we don't get enough clears) for any particular challenge.
In the afternoon, we'll have the finals for each challenge – and yes, they will be harder – giving All-Star Points for the top 3 in each final challenge:
3 All-Star Points for 1st place
2 All-Star Points for 2nd place
1 All-Star Point for 3rd place
Prizes
Medals will be given out for 1st through 3rd place for each challenge for each category (14+men, 14+women, 13&under men, 13&under women).
Additionally $50 for first place for each division/gender in each challenge category
Additional cash prizes will be given for overall all-star points. Cash prizes TBD based on paid attendance and sponsorships.
Learn More & Sign Up Here: https://ninjamastersoftware.com/events/2666-labor-day-all-star-skills-competition