Rock Solid Teen Ninja Tour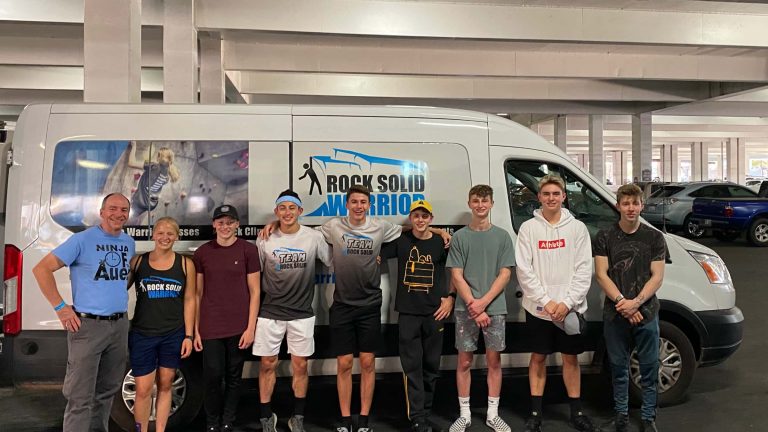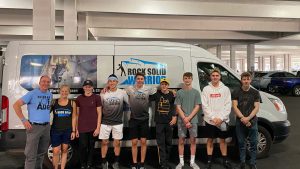 In August of 2021, Rock Solid Warrior took 10 of the world's best teen ninjas on a cross-country tour immediately following the Ultimate Ninja Athlete Association World Finals in Las Vegas. This trip covered over 3500 miles over the course of seven days.
These are the ninjas that participated…
Olivia Colasuonno

Owen Dyer

Phil Folsom

Sam Folsom

Isabella Wakeham

Tyler Kurtzhals

Christian Youst
As soon as the Ultimate Ninja Athlete Association World Finals was over on Saturday, July 31, the Rock Solid Transit took some of the most talented teen ninjas across the country, stopping at 12 ninja gyms along the way, and ending up at Rock Solid Warrior the following Saturday (August 7) to participate in its annual Speed Competition – a unique competition where each ninja gets to run the same course 4 times, trying to get their fastest time.

At each stop, these ninjas will work out, compete, and/or meet with other ninjas or ninja-wannabes, possibly as an attraction / special program.

These are the following gyms that we stopped at:
Ninja Force – Albuquerque, NM

Austin Ninjas – Austin, TX

Iron Sports – Houston, TX

Rise – Houston, TX

Sam Sahn's – Houston, TX

Ninja Nation – Frisco, TX

Flipside Ninja Park – Lowell, AR

Ultimate Ninjas – Chesterfield, MO

Ninja Quest – Marietta, GA

Motive School of Movement – Greenville, SC

Ninja Nation – Huntersville, NC

Rock Solid Warrior – Fuquay Varina, NC
Rock Solid Warrior's goal is to elevate the sport and the great athletes in it… "a rising tide lifts all boats". But in addition to the marketing opportunity for the sport and the individual gyms, we'd like to see both the gyms and the ninjas get compensated for their contributions.
By the time this trip occurred, all of the teen ninjas had participated in or appeared on at least one ANW (or earlier ANW Jr.) episodes. Additionally, they all regularly podium at major competitions. (See public accomplishments below).

Many of the stops were live streamed to Rock Solid Warrior's Facebook Page. We will be producing a "documentary" of sorts, edited together after the tour is over which Rock Solid will publish on its YouTube channel.
As of now, we don't know if the Rock Solid Teen Ninja Tour will return in 2022, but we have some ideas and we'll just have to wait and see!
MEET THE NINJAS
Josh Auer – The Bathrobe Ninja
Joshua may be known to some as "The Bathrobe Ninja" who made it to the semi-finals in the first two seasons of American Ninja Warrior Junior (2018-19). In 2017, his older brother (Caleb, Ninja of the Auer) pointed him to American Ninja Warrior episodes and he quickly became an incredible student of the sport. He started working out with sit-ups, pull-ups and more and found a ninja gym (Warrior Tech OCR) 40 minutes from his house. In his first full year of competition (2018), he placed in the top 10 at the Ultimate Ninja Athlete Association (UNAA) and National Ninja League (NNL) world finals in his age group. In 2019, he was crowned the champion of 11-13 year olds for the Athlete Warrior Games (AWG) and was 3rd at the UNAA World finals. For the 2020-21 season, he decided to "go pro" and has made his mark. He was named the Ninja Carolina League's pro champion, being the only pro to clear the finals course. He qualified in the Elite Division of the NNL in his first attempt in both the Northeast and Southeast Regionals. Later he finished 1st at Ninja Quest and had the fastest time on Stage 1 at the NNL finals. He is a top coach among Rock Solid Warrior's amazing coaching staff (including 6 who have made it beyond city qualifiers on ANW) – co-leading its youth competition team with Julius Ferguson ("Black Jewelz"). In 2022, he'll be on the American Ninja Warrior Family Championship special with his brother (Caleb) and sister-in-law (Hannah).
Julia Bainbridge
Julia was "training" for ninja warrior in the barn of her family's home in rural North Carolina when her brother, Sammy, got called to be on American Ninja Warrior Junior. They found out there was a ninja gym about 40 minutes away in Thomasville, NC (Level Up). They started visiting there when they could and Julia became the female champion in the 15-17 age group at the NNL finals in 2019. Now she generally ends up with a medal just about any time she competes among the adult women, including being the female champion at Ultimate Backyard Warrior in 2020. She caught the attention of the American Ninja Warrior producers who called her to compete on Season 13. Julia is joyful: you will rarely see her without a smile on her face. She is bright: she was part of a national finals mock trial team in high school. She is diligent: she has become a trusted assistant manager at Rock Solid Warrior. And, she is one tough ninja!
Owen Dyer
Owen has been training ninja warrior for three years. He is a UNAA certified coach and coaches at Flip Side Ninja Park in Lowell, Arkansas. Owen has competed at NNL finals for the past three years and will compete in his first UNAA finals later this summer. He also designed a ninja warrior training grip with his younger brother Hayes that is now being sold by Monstro Ninja Holds. Owen was one of the select teens to compete on season 13 of American Ninja Warrior. In his qualifier round he hit a buzzer and finished 4th overall for the episode, qualifying to compete in L.A for the semi finals. You will see how that went on July 19th. Most people may not remember his name but he will forever be remembered as the flamingo kid on American Ninja Warrior!
Phil Folsom – Phil Send
Phil is the younger brother of Sam Folsom but is making a name for himself in the Ninja Community. He recently finished 4th in the crowded 13-14 division at the NNL Finals and will see him on Season 3 of ANW Jr. But he competes with the pros regularly and beat all of them at the 2021 Jungle Gym multi-stage competition. He trains with his brother Sam at the "Danger Zone" (their backyard barn) as well as Ultimate Ninjas in St. Louis.
Sam Folsom
Sam came onto the pro ninja scene in a big way in 2019 when he won the UNX championship. However, he's been competing for quite some time and is the "head coach" and "course designer" at the "Danger Zone", having converted his family's barn into a top training spot in southern Illinois. Sam got the call to appear on American Ninja Warrior this season. Everyone who knows him recognizes that he is one of the most knowledgeable ninjas in the world.
Brett Strong – Be Strong
Brett not only hit a buzzer but was the shortest ever to beat the Megawall on American Ninja Warrior this season. He was called "Rookie of the Year" by Matt and Akbar, but he's no rookie to the sport. Before it was common for teenagers to take on the adults, Brett put in an incredible performance in 2018 at Stage 2 of UBW's Memorial Day competition. He was one of four that cleared the course and beat all adult competitors by more than 10 seconds. Brett has been called "the natural", but he works hard at training. His late Friday night training sessions with Josh Auer after the gym is closed at Rock Solid Warrior have become legendary. Brett is full of energy and juggles college, training, and coaching at Rock Solid Warrior.
Isabella Wakeham
On the first night of qualifiers at American Ninja Warrior, Isabella crushed the course earning the top spot among the women. But that is only one of the more recent of an amazing string of accomplishments in the sport. In 2019, she took 2nd place in the pro division at UNAA world finals at the age of 15, and in 2021 she earned the Elite Women's NNL championship title. Isabella trains and coaches at Iron Sports in Houston.
Tyler Kurtzhals – TK Ninja Trickz
Tyler appeared on American Ninja Warrior Junior, season 1, and performs big in big competitions. In the past year, he was the only athlete to make it to stage 3 at both the Bucket of Chalk competition and National Ninja League finals. He's been training as a ninja for over 8 years. Tyler not only competes but coaches at Ninja Warehouse in Salt Lake City, Utah. He's one of the most kind, friendly, and energetic people you'll ever meet. His strong desire is to help people and he's hoping to become a physical therapist.
Christian Youst
Christian came closer than anyone to beating Vance Walker on American Ninja Warrior Junior in Season 1 in an early run, so few of the general public got to see how far he could have gone. But he has been on top of the sport for many years and got the call to compete at American Ninja Warrior this year so the rest of the world can see what others in the sport have seen. He was the State Games of America champion, and two-time Texas Ninja League champion. Christian trains at Iron Sports in Houston.